Fun in Suisun - May 2001
Have you ever thrown a surprise party for someone? And then find out that you're the one surprised because that someone could not make it to your party?
The get-together in Suisun City, California was to give Lourdes Banadera a going away party, as this was to be her last week in the Bay Area. It was supposed to happen during the second week of May, 2001 and was meant to surprise her prior to her departure.
She was surprised alright, and we were too! She couldn't be at the party because she had to leave the day before. Well, surprise to everyone!! Nonetheless, Class 1963 pushed through with the party. We don't get disappointed that easily. We partied, with or without Lourdes.
Lourdes was actually the excuse for the party rather than the reason for having one. Perhaps we can have another one called "Welcome Aboard Lourdes" in November. This time, she'll be there because we'll pick her up at the airport and handcuff her to a post just to make sure she'd be around for the party.
The party was held in Remigio Abacan's residence in Suisun City on May 12, 2001. Before that, many classmates have arrived from Georgia, Canada, Chicago, and Minnesota. So May 12 was actually just a continuation of that party. We had to rename the party "Welcome Aboard: Fely, Marlene, Ancilla, Dexter, Ruby, and Dalisay" - See how easy it was!
First to arrive was Vic Hilado from Chicago, Illinois on May 10. Vic's been one of our mainstay in all the reunions. He was with us in Los Angeles and has promised that he'll be with us all the time. Next was Florencia Flores from Georgia at noon time of May 11. Remigio picked her up at the San Francisco Airport then later on it was Maria Elena Mier and Les Cacapit at 6:30 and 7:30 PM respectively. Later on Maria Cristina called and said that she'd be delayed half an hour and will be arriving at 10:00PM. So we all waited. Gosh! Between the International side and the Domestic side of the airport must have been, at least, two miles of walking. Needless to say, our feet were killing us by the time Maria Cristina arrived.
The day before, Mars Del Villar called and said they couldn't make it because of her Aunt's passing away and the whole family had to fly to New Jersey to attend the wake and funeral. I didn't break this news to anyone, lest it might create a domino effect on the merriment. Melvin De Pano also called and had to cancel because of his father in-laws accident and he required constant attention. Next was Romy Rebueno and Girlie Garcia because of work commitments. But later on, everyone started arriving and the absence of a few did not matter after all. The party was a tremendous success enjoyed by everyone. Now, here are the pictures!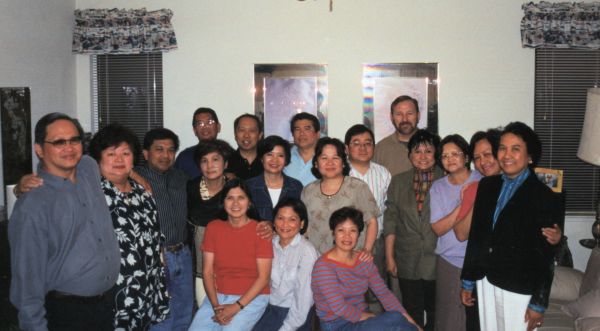 Front: Boots Abacan, Maria Cristina Ludovica(Maher), Florencia Flores (Tiu): Middle: Romy & Ruby Campo (Dizon), Conrado and Luz Alfaro, Mariles Cacapit (Licerio), Remy Del-Pilar (Mangawang), Maria Elena Mier (Nordenstrom), Dalisay Dinco (Benipayo), Fely Yabes (Diroy), Chit (Fely's sister) - Last Row: Luke Licerio (Les' husband), Remigio Abacan, Victor Hilado, Rolly Mangawang (Remy's husband), Chuck Nordenstrom (Marlene's husband)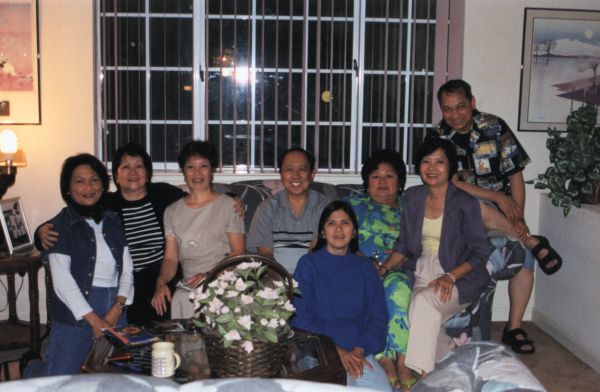 L-R: Maria-Cristina Ludovica, Ancilla Ravinera, Florencia Flores, Remigio Abacan, Ruby Campo, Mariles Cacapit, Dexter Atizado, and Boots Abacan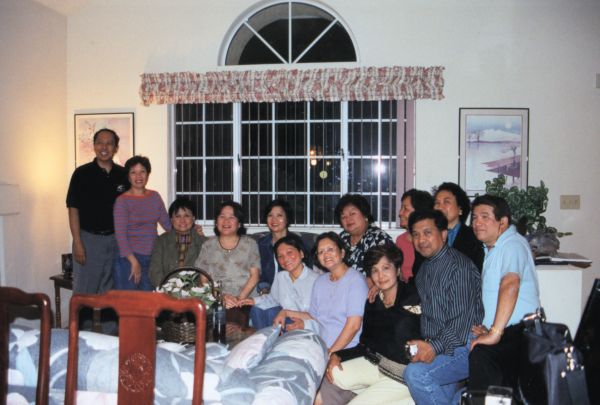 The group at about 8:00PM.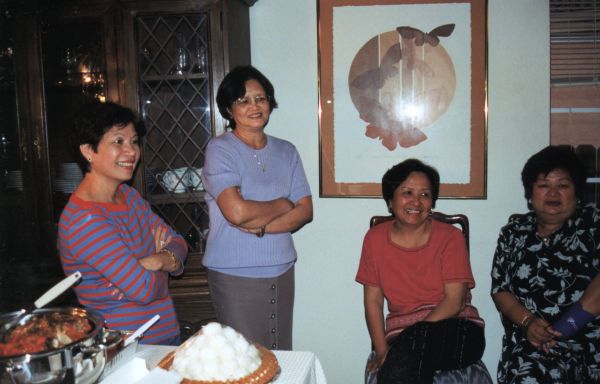 Florencia Flores, Dalisay Dinco, Fely Yabes, and Ruby Campo in animated conversation. It was funny when Dalisay came to the house and couldn't tell which one is which. Remigio said he was Mars Del Villar, so she said "Mars ano kumusta ka na? Hindi ka pa rin nagbabago, then she looked again, then looked at Dexter". We all had fun watching her guess who we really were. Ruby Campo-Dizon is on the far right. Ruby was that student who's always underneath the mango tree near the Home Economics building smiling at everyone. Ruby always had that ready smile for everyone. She's a successful nurse at Kaiser Permanente in Vallejo, and is gifted with two very talented and beautiful daughters (hi! single sons) - Pareng Romy, ihanda mo na ang baril mo!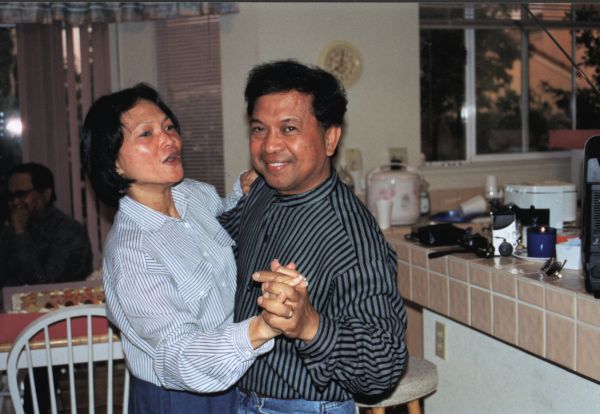 Conrado Alfaro and Maria Cristina Ludovica dancing via Luke's Karaoke singing. As you can see, Conrad's always smiling compared to our high school days. I would too, if I were a successful architect and married to a lovely wife like Luz. But first, don't forget to turn on your love light!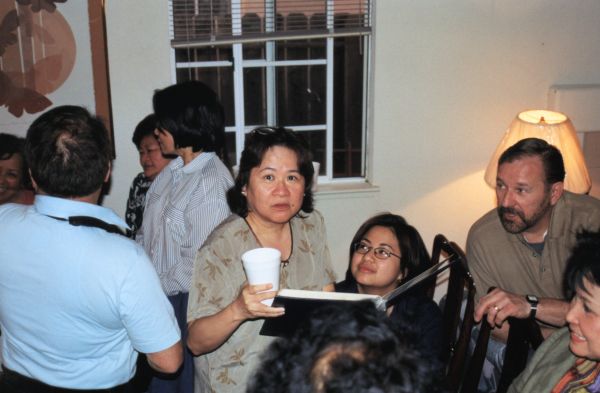 A surprise photograph is worth a thousand words, gotcha! Remy. Remy's daughter looks on with Chuck and Marlene. Vic Hilado's back from the Camera with Maria Cristina and Ruby in the background. I was taking pictures at random and all were candid shots.
The Tawag ng Tanghalan sa Suisun: This is Luke Licerio ala Frank Sinatra and Matt Monro. Luke is Mariles Cacapit's husband. He can really sing and make everyone stop and listen.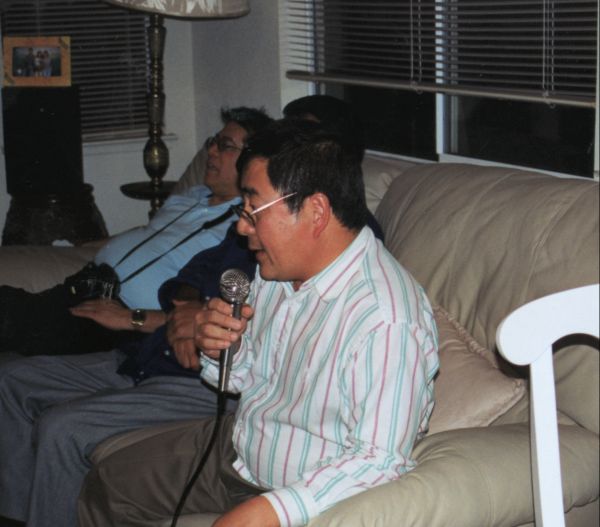 Not to be outdone is Rolly Mangawang, Remy Del Pilar's husband. Rolly's more into modern music and can really carry a tune.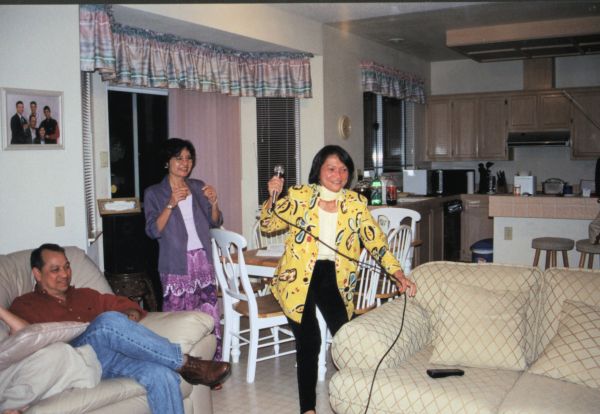 This is Tina Turner, este Tina Maher (Maria Cristina Lodovica). We all had a good time watching Tina do her number... she may lack practice, but the showmanship was superb!! Hala Tina Bonga!
Les was the surprise of the evening for she can carry a tune also. At least she knows how to time her music. Hindi katulad namin na wala ng music e may words pang natitira. Dalisay hummed along with Les.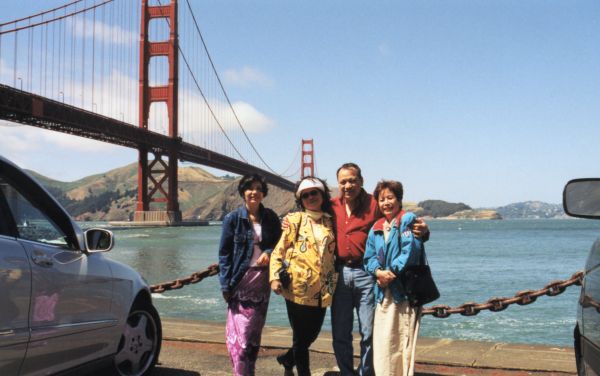 This was our trip to the Golden Gate Bridge. Dexter, Les, Tina, and Florencia. Remigio was taking the picture, while Luke Licerio stayed in the background. May 13, 2001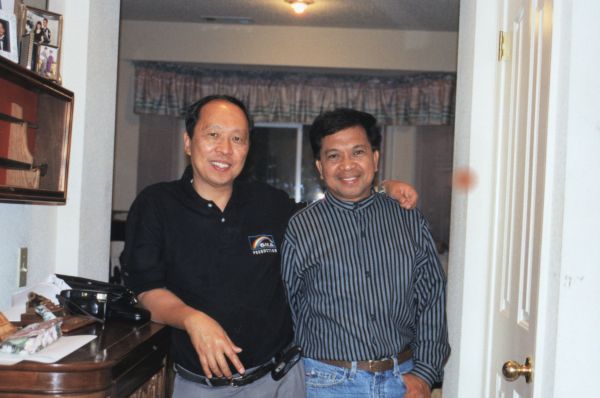 Old high school buddies Conrado Alfaro and Remigio Abacan.
CLICK THIS FOR MORE - PANORAMIC VIEWS