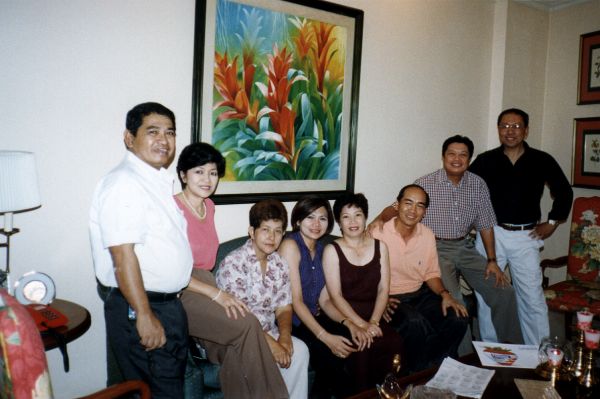 L-R: (2000, March 18) Baby Casas's new building in Mandaluyong: Jesse Ferre, Sol Mendoza, Lourdes Ticzon, Rosalinda Casas, Florencia Flores, Erlito Dimaano, Florentino Tuason, and Remigio Abacan. Picture taken around 6:00 PM prior to the arrival of the rest of the gang.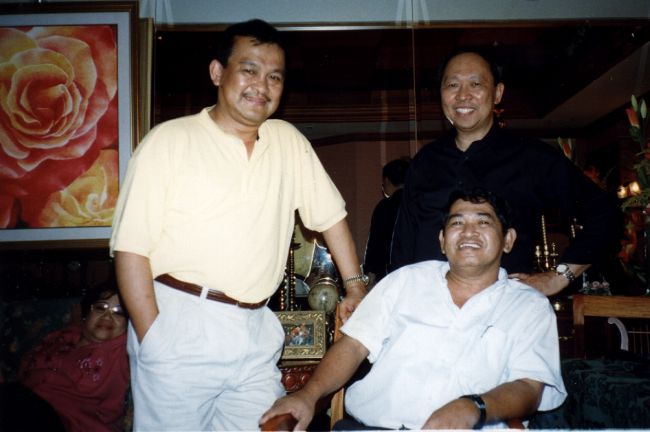 L-R: Fred Tiu (Florencia's husband), Jesse Ferre (sitting), and Remigio Abacan (standing). Jesse had a field day teasing Remigio about the name change to "Romy". Fred Tiu's quite a good company- all throughout our vacation. Somehow Remigio and Fred hit it off good. Jesse, as always, has not changed through all those years. He's still the same guy, same mannerism, etc.
Florentino "Boy" Tuason, aside from the normal age-transition, hasn't really changed over the years. It must be the young wife, who keeps Tino real peppy and full of life. As you know Tino is Class 63's only late "bloomer" among the guys. But for very good reasons indeed. Boy "Tino" Tuason is one of our successful classmates having been appointed as a Deputy Commissioner of COMELEC in the Philippines. Well, how do you measure success anyway? I can say with qualification that success is measured by being in a field, where competition is severely limited, and you're one of those who succeeded.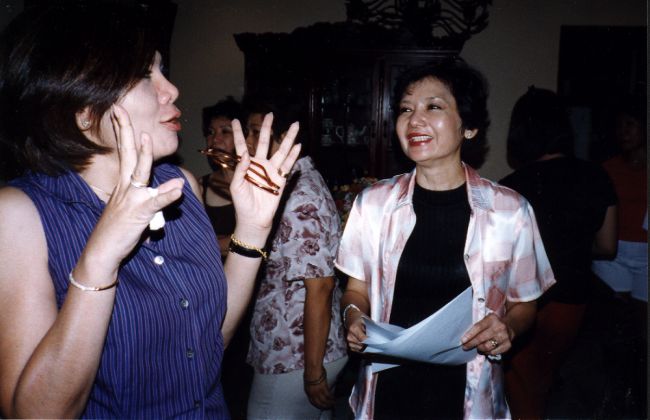 Baby Casas talking to Les Cacapit " Diyos ko, ganito kalaki oh!" .... Les "Ganoon ba? Di nahirapan ka? The two talking about the fish that Baby Casas's boyfriend caught while they were fishing. Now, these two are also quite successful in their playing field. Baby Casas in being a business entrepreneur, and Les Cacapit in rising from the ranks to PAL management.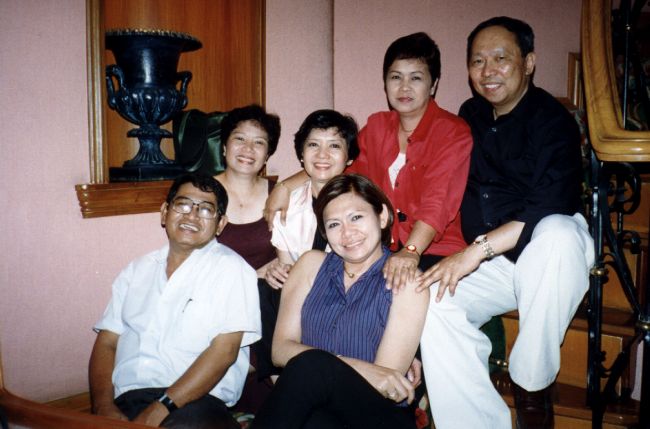 Somehow, we've made this stairway our favorite "picture spot". This picture was taken in Baby's exclusive townhouse in Mandaluyong. Her place is really something as you can see by the decor in the background. L-R: Jesse Ferre, Florencia Flores, Les Cacapit, Baby Casas, Evangeline Avanzado, and Remigio Abacan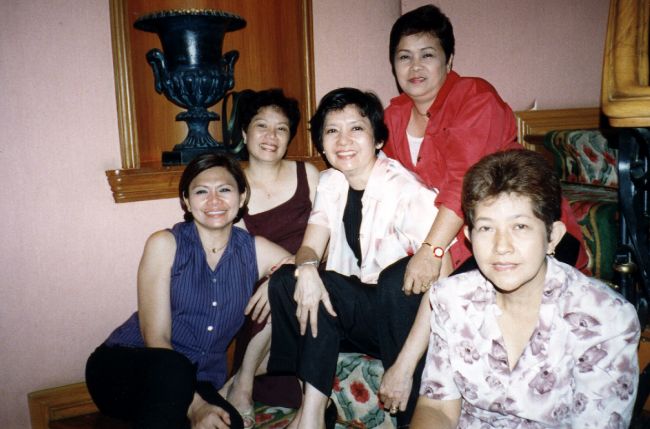 Another "hagdanan" picture. L-R: Baby Casas, Florencia Flores, Les Cacapit, Vangie Avanzado, and in the very front is Lourdes Ticzon.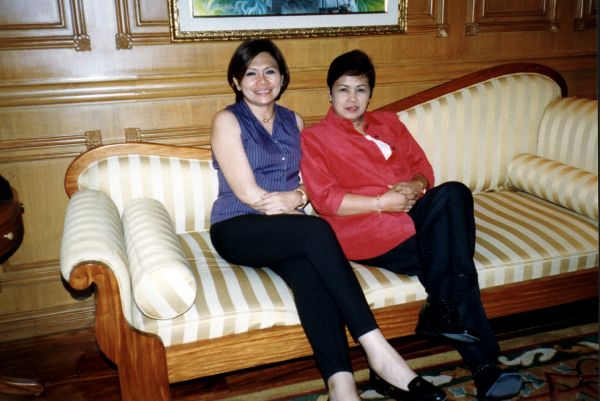 This was taken somewhere upstairs in Baby's townhouse. Baby Casas and Vangie Avanzado. This is an open invitation from Baby Casas to Mars, Dexter and the rest of the cute guys/girls of Class 63: Common over and visit us. We're more than willing to accommodate you in my place...... "Baby, can I have Room 209 next year around January. And Please give us some extra towels, ok?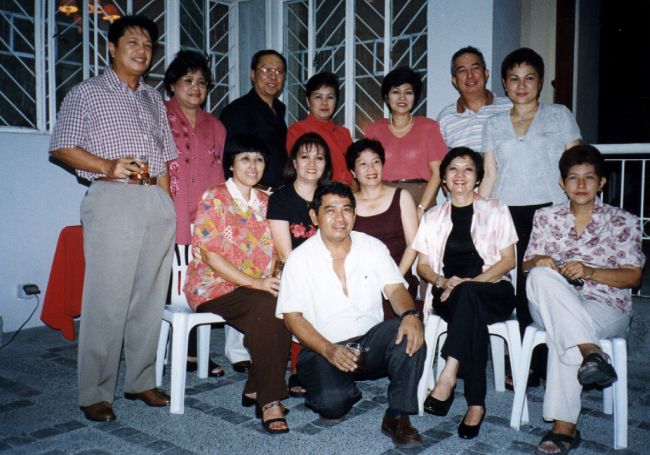 March 18, 2000 around 8:00 PM. This is the entire reunion group: L-R: Florentino Tuason, Myrna Gacad, Remigio Abacan, Evangeline Avanzado, Sol Mendoza, Vangie's husband, Remy Alcantara, Front Row: L-R: Aurora Ulanday, Adelaida David, Florencia Flores, Les Cacapit, Lourdes Ticzon, and Jesse Ferre.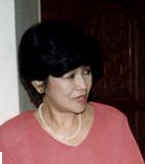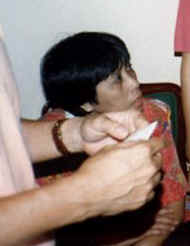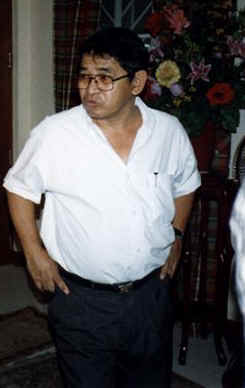 Sol Mendoza seemed to be telling Jesse something. I don't know what it was (Sold told me but I won't tell anybody, as Aurora Ulanday and Erlito Dimaano looked on.
L-R: Adelaida David, Lulu Ticzon, Flor (her back to the Camera), Fred, Tiu, (Background) Les (back to Camera), Bobby Villanueva, ERlito Dimaano, Aurora Ulanday.