2001 - Manila Philippines
This page has "tons" of pictures so be patient and let them all load up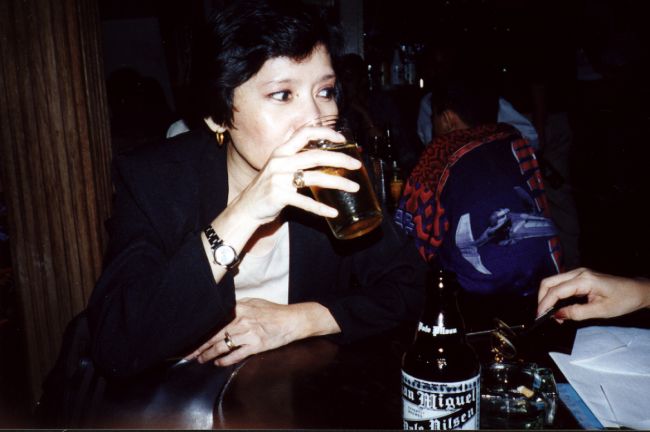 Ah
Les.... are you sure you don't want any lady's drink like Sloe Gin-Seven? We can get you some lady's drink if you want? No, this is perfect. If you guys can carry the load, I can too! Don't you ever forget that!! Yes, ma-aammm!!! - THE TRUTH is Les is limited to only one beer - otherwise she'll tell us all kinds of stories and we won't be able to go home!!!!!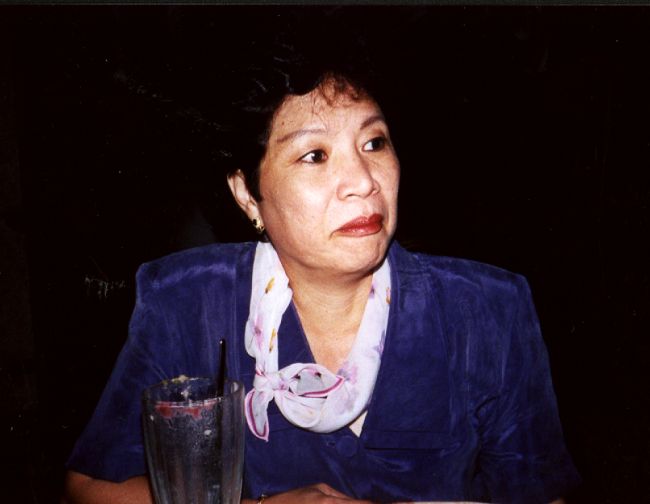 Well, what do I care if you want to chug-a-lug? All I care for tonight is Cherry-Coke!!... Besides, Fred won't let me drink... Would you Fred?? FRED!!!! .... quit looking at the ladies because they're not ladies......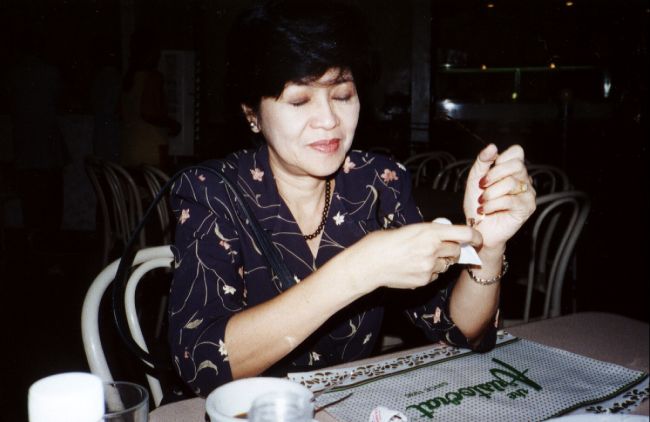 Kayo naman, huwag kayong maingay...... Let us pray...Aba wala pala akong rosaryo... di bale.... ito na lang na Diamond bracelet ko... Tatandaan ko na lang ang pindot....Este Sol???? ..... Nasa loob tayo ng ehem!!!!! Club!!!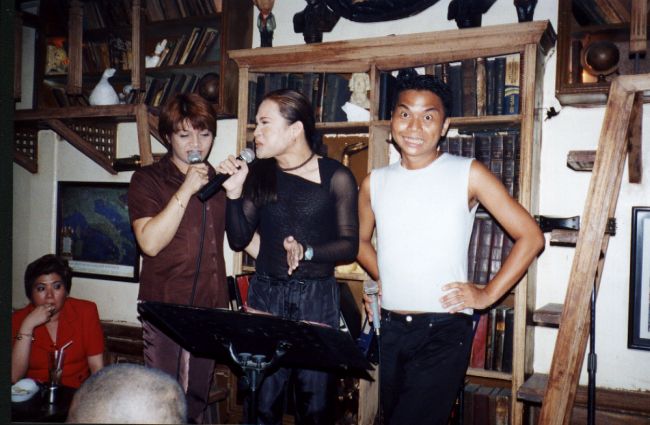 Ah!! The famous "Library" performers..... (L-R) - Real-Sister, Someone's bald head, Almost a sister, Half-Sister, Your worst nightmare. I didn't get these guys...errrr. .. "ladies's names, but they're GOOD in capital letters...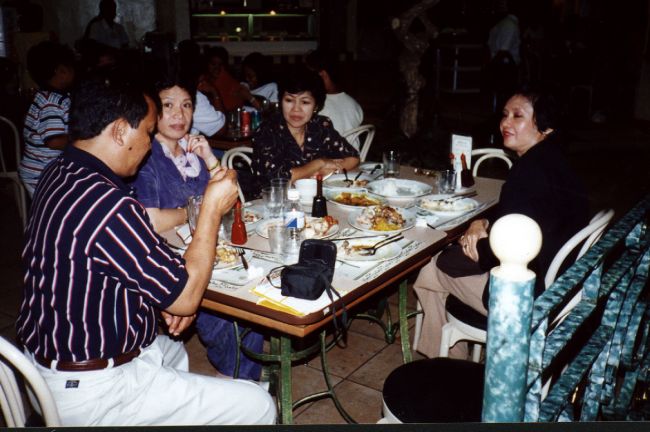 Aristocrat Restaurant - by Malate Church..... Fred (Flor's Husband), Florencia, Sol Mendoza-Mamiit, Les Cacapit-Licerio - Ang haba namang isulat ng pangalan ng mga babae.....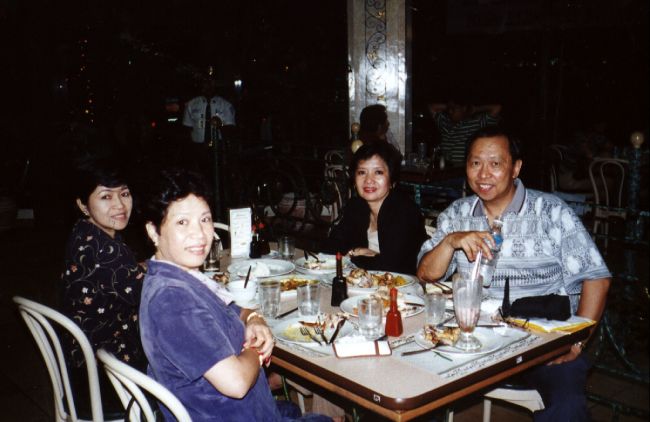 Same place, but it's Fred's turn to take the pictures. L-R: Sol Mendoza, Florencia Flores, Mariles Cacapit, Remigio Abacan.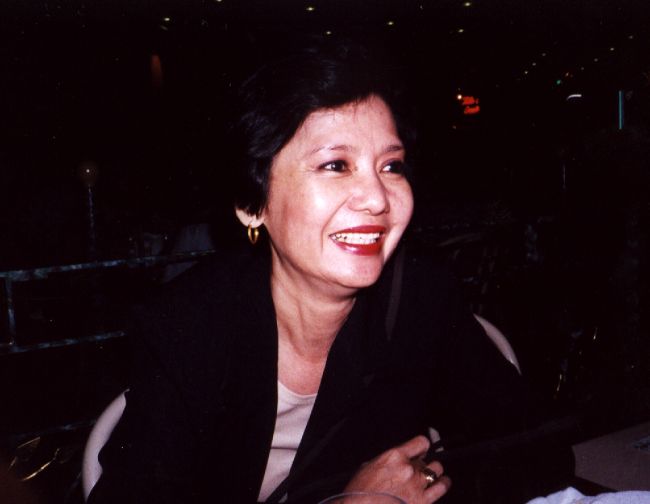 Now, I can talk...... that beer was so gooooooddddddd........ where were we?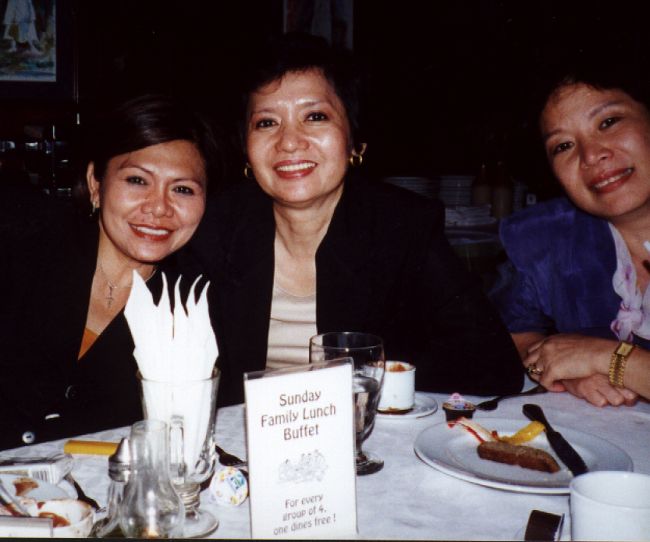 Cafe Adriatico with Baby Casas, Les-Cacapit-Licerio, and Florencia Flores-Tiu. Danda, Danda naman ang kuha nilang lahat!!!!!! Baby's date either excused himself, or Baby leaned sideways so I won't take his picture... ----The End----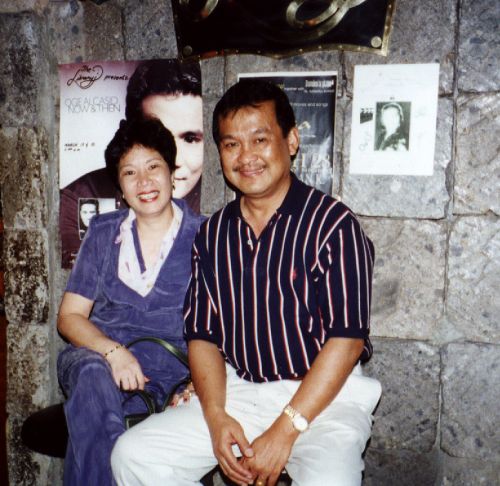 Florencia Flores-Tiu and Husband Fred - very sweet despite the years - in front of "The Library"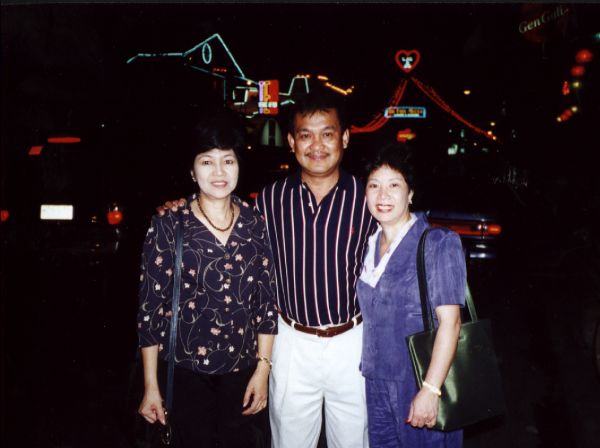 Sol-Mendoza-Mamiit, Fred Tiu and Wife Florencia-Flores-Tiu - shown as background - the little "Greenwich Village" of Ermita District, Manila - March 2000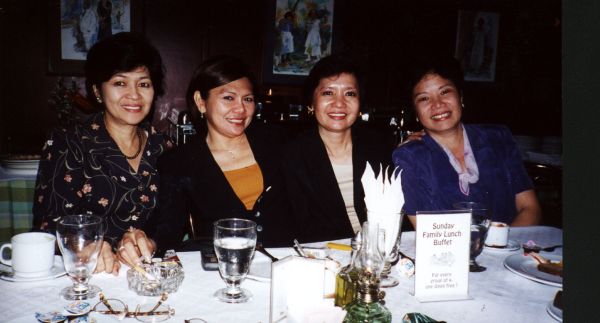 I promised this shot to be "good" and indeed it came out to be good. Sol, Baby Casas, Les and Flor - inside Cafe Adriatico - Malate, Manila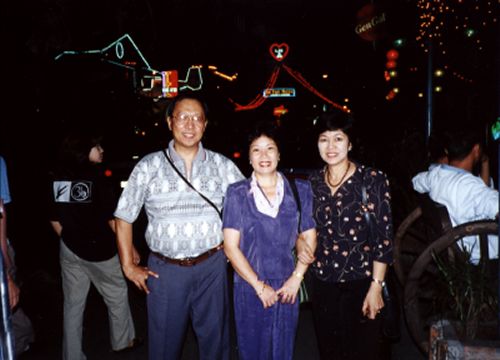 Ladies need a gentleman for escort (but where is he?) - None other than Remigio - sino pa? - Flor and Sol in front of "The Library"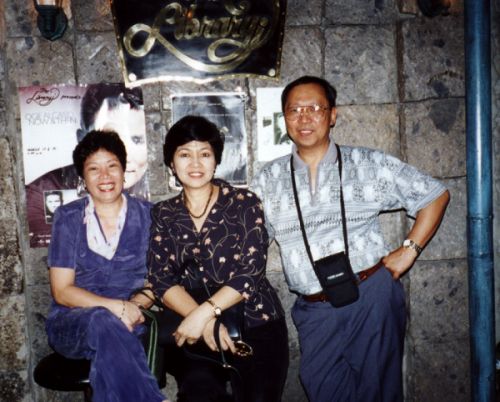 While waiting for Les, who got caught up in traffic while on her way to meet us, Flor: Sol and Remigio in front of "The Library" March 22, 2000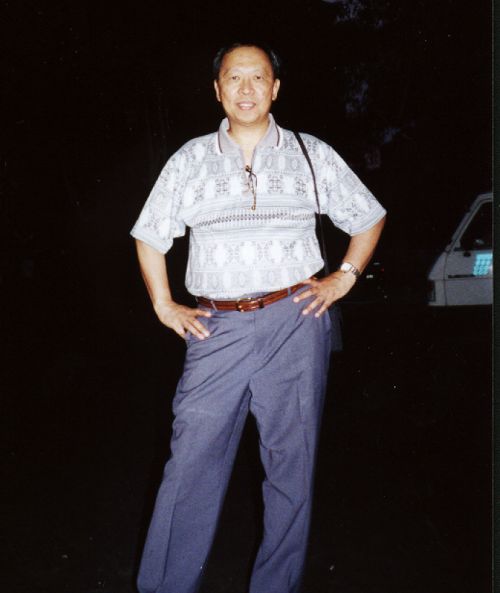 Bakit si Remigio maraming kuha sa web site na ito? Answer: Because he's the ""prumutor"" of this web site. Next question please...!!!!