Mini-Reunion - Manila, Philippines - June 2001
The reunion we had in Manila wasn't intentional. It was one of those spur of the moment type get together. We met three times. The first being at Sol Mendoza-Mamiit's mansion in Sucat, Paranaque on June 2, 2001, followed by a birthday-reunion party for Remigio Abacan at TongYang Restaurant at the Mega-Mall Complex in Ortigas, and then a farewell party at the Tratoria Italian Restaurant and Starbucks, Shangrila Edsa complex.
Our classmates in the Philippines extend their warmest invitation to any of our class 63 classmates. We will have a grand reunion on April 2003. Be there!!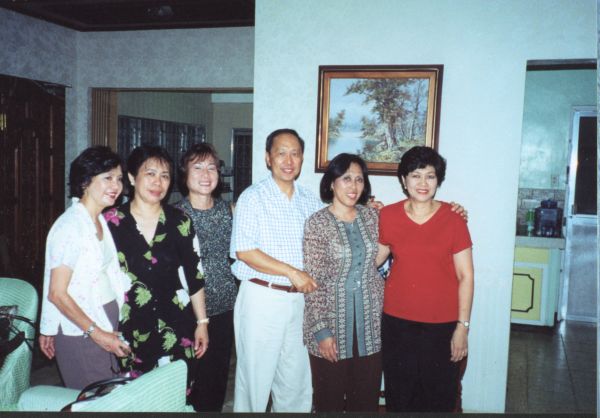 This picture was taken on June 2, 2001 in Sol Mendonza-Mamiit's residence in Sucat, Paranaque, Rizal. Among those who came were Les Cacapit-Licerio (She has just arrived from the US that same morning), Lourdes Banadera, Florenda Galoyo-Soriano (This was the first time we've seen her after so many years), Remigo Abacan, Aurora Abad, and of course our host Sol Mendoza-Mamiit.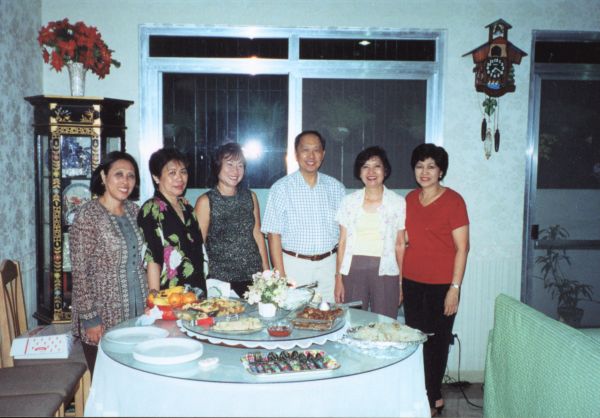 The same group around the dinner table. We would have had a bigger crowd except to many, 20 kilometers in the Philippines is considered very far to travel to. Not because it's really far, but because it takes three hours to get there and another three hours to get back!!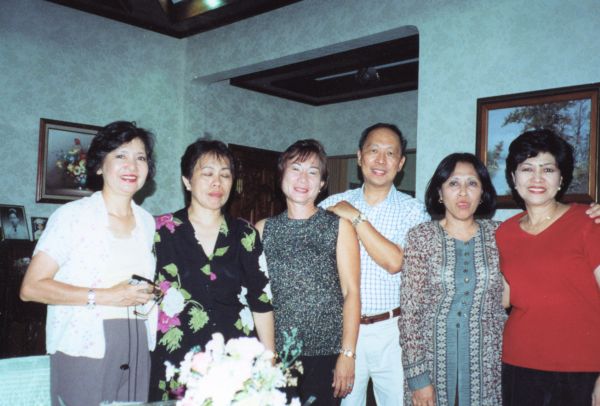 Finally I got the chance to see Floren again. Boy! I can't believe it's been over 30 years since I saw her last. Floren is a special person to me because she'd always been very kind when we were in high school (not that she shared her "baon" with me or something). She laughed when I described her as always prim and proper, truly spic and span with her uniform. So much for having a Major-Dad in the Army I suppose (and also one of the major reasons why we stayed away he he he!!!)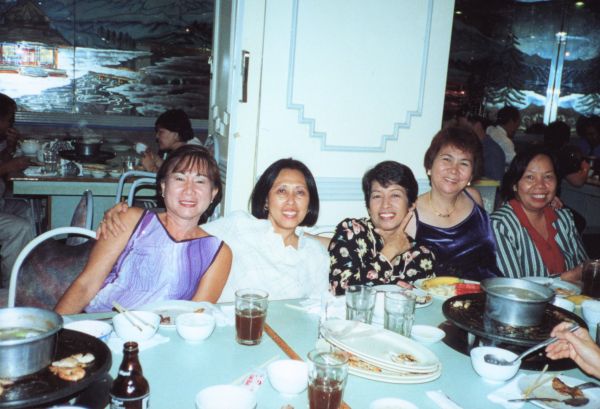 Hail! hail! the gang's all here so they seem to sing in unison... Floren, Au, Melody (Mateo), Vangie (the Big Apple) Lazaro, Noemi Seno. Just the same, hello Noemi!! Noemi is one of those classmates that I really remember well because we practically spent the years in KES and QCHS together in the same sections.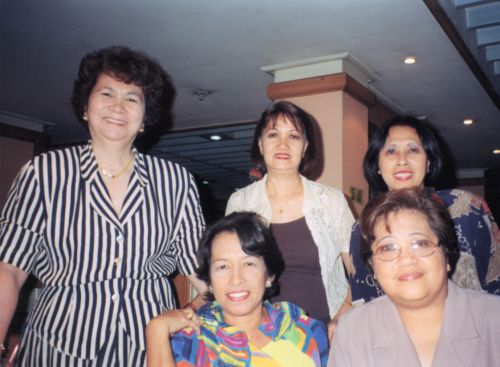 Thank god Remigio's not in this picture again!!! So everybody seems to say. From left Vangie (the big Apple) Lazaro [she's a perennial New Yorker that's why], Melody (sitting), Adelaida David-Rinario, Myrna Gacad-Fernandez, and Aurora Abad (standing) - picture taken at a place where Remigio wasn't invited (wala pa yata ako sa Pilipinas noon - ang galing nilang magtago sa akin)
June 4, 2001 - It's my birthday party and a good excuse to have a reunion and not pay for it. We really had a good attendance that night. This was taken at Tong-Yang Restaurant at the 4th Floor of the Mega Mall Complex in Ortigas. To all those who attended, especially those who had to forsake their week's baon to pay for our dinner - Maraming salamat po sa inyong lahat. Round the clock - Floren Galoyo, Aurora Abad, Melody Mateo, Vangie Lazaro, Noemi Seno, Sol Mendoza, Les Cacapit and Florentino "Boy Commissioner" Tuason.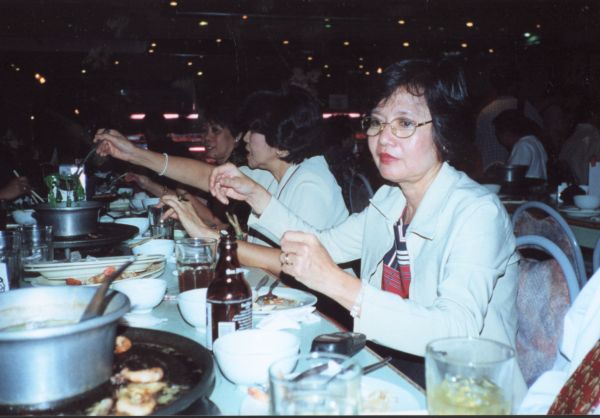 Les Cacapit-Licero, with her ever-present bottle of San Miguel beer, contemplating the night's event. Are we going dancing or what? - Les bakit hindi kayo nagyaya sa Audiotorium?
A quiet night at Sol Mendoza's place...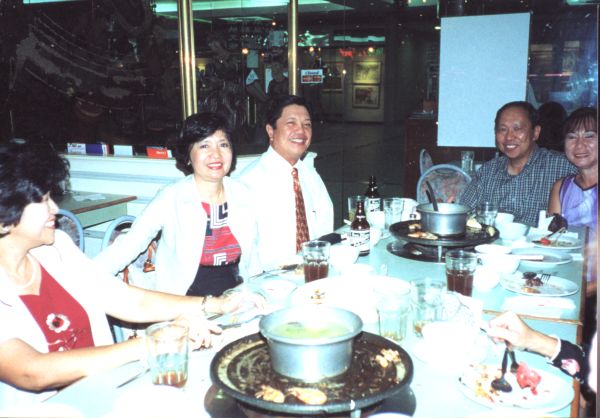 Finally I can smile because Tino Tuason took the bill despite my not too forceful objection. I believe it was split several ways among the gang. I really enjoyed the time with them, despite me being late due to the horrendous traffic. Unseen somewhere in this picture areTinoTuason's bodyguards. Boy is big now and requires 24 hour bodyguard protection - lest he runs away with the ballots.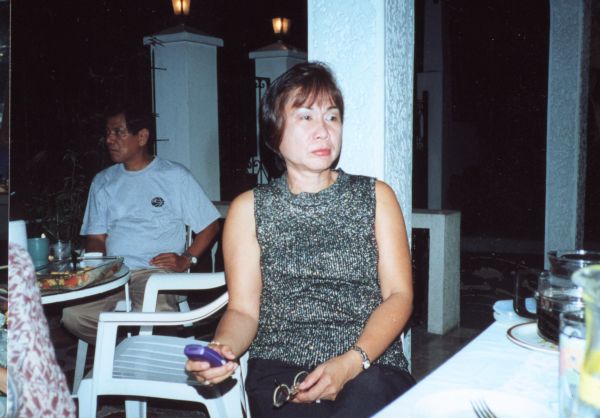 Floren Sino ang ka-text mo?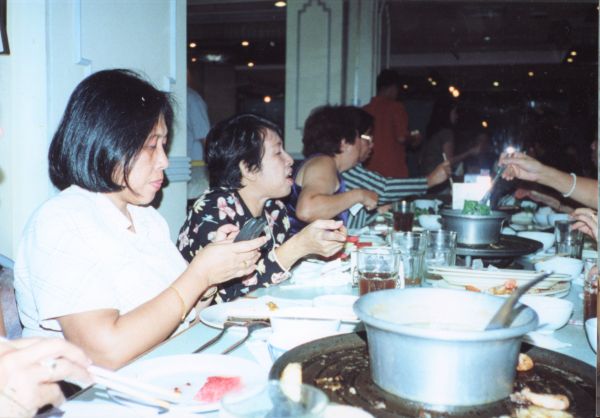 Oh Au bakit naman negte-text pa kayo in Floren e magkatabi naman kayo?