Music and Accompaniment to "The Prayer" loading. See lyrics below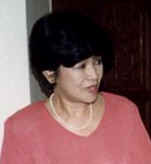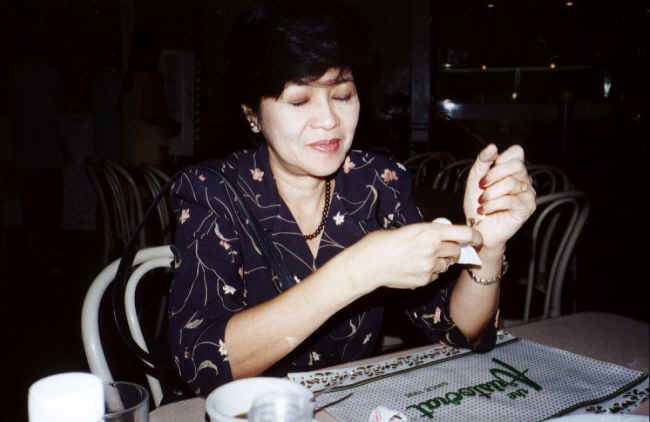 Sol in deep prayer
I'm Soledad "Sol" Mendoza-Mamiit the "chinita" from across everyone's desk in high school. I've always been the quiet one except when Florentino Tuason, Rodolfo Julio, and Remigio Abacan teased me. Somehow, they've always been like good brothers to me and have never forgotten to remember me in good times and bad.
I am married with three sons. I am in the Insurance business, which I find to be quite challenging and lucrative. Together with Les Cacapit, we find it quite enjoyable to organize class reunions and reminisce about old times.
I am deeply involved in religious activities within our parish, and still find enough time to manage our business and family.
"I looked up and asked for guidance...
I said to Him that I give Him all my strength to help guide me...
and asked why I'm so depressed when I'm away from you...
and somehow, by just saying to Him that I would follow
whatever path he led me, it gave me so much energy
of positive nature, that I was overwhelmed inside...
I know He'll guide me in the correct path...
I know the path will lead to you..."




The Prayer
Celine Dion
Duet with Andrea Bocelli
(By Carole Bayer Sager
and David Foster)


F Bb C7 F
I pray you'll be our eyes, and watch us where we go
Dm Gm C7 Bb F
And help us to be wise in times when we don't know
Bb C7 F Dm
Let this be our prayer, when we lose our way
Bb F
Lead us to the place, guide us with your grace
C7 F
To a place where we'll be safe


I pray we'll find your light, and hold it in our hearts
When stars go out each night, remind us where you are
Let this be our prayer, when shadows fill our day
Help us find a place, guide us with your grace
Give us faith so we'll be safe

(A world where pain and sorrow will be ended
And every heart that's broken will be mended
And we'll remember we are all God's children
Reaching out to touch you
Reaching to the sky)

We ask that life be kind, and watch us from above
We hope each soul will find another soul to love
Let this be our prayer, just like every child
Who needs to find a place, guide us with your grace
Give us faith so we'll be safe
Needs to find a place, guide us with your grace
Give us faith so we'll be safe






This song is heartily dedicated to Sol Medoza-Mamiit