The way it all started: Well, Flora invited Remigio to co-sponsor the wedding of their son Bryan to more or less cement the friendship between them. While that was going on, Les was also planning to come to the US in November. At the same time Remy Del Pilar was planning to leave for the Philippines in November, and Sol was toying with the idea of coming to the US for a much-deserved break. Since many would like to see everyone else, we thought why not just put this altogether and come up with a series of gatherings. And so it happened that way.
First it was Sol, who came to LA on November 12, followed by Flora and family. Maria-Cristina & husband John, and Victor Hilado arrived from Vancouver, Canada and Chicago, Illinois respectively on November 15. Les arrived the following day November 16. Lourdes Banadera in San Francisco on November 15, and drove with Remigio and Family to LA on November 17.
Flora hosted the first party on November 16, 2000 with a dinner for the groom and bride and at the same time invited the Class 63 troops. This was followed by a get-together at Remy's house and then some dancing at a Mexican Restaurant-Club in Marina Del Rey on November 17. The following day, Remigio and wife Irene hosted a dinner at the Marriott Hotel for the Class 63 gang after which we joined Flora and company for dancing at their wedding reception.
Next day, it was Mars' turn to throw a party at his house in Irvine, which was attended by everyone, except Flora, who was understandably pooped from all this partying. The surprise for the evening was Melvin De Pano and wife -singing the night away...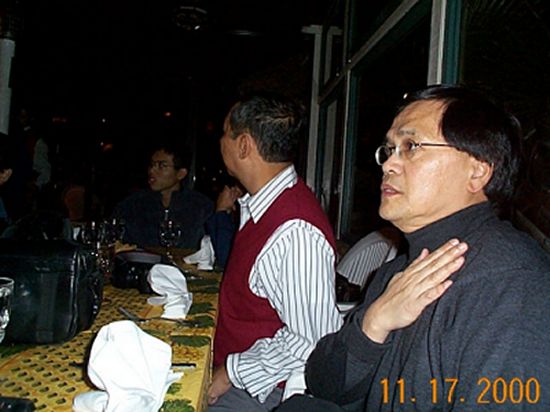 First, we have to do the traditional "Panatang Makabayan" with Mars leading the way.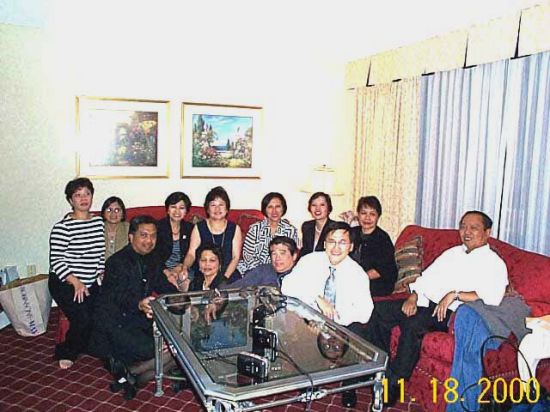 L-R: Florencia Flores, Irene, Conrado Alfaro, Soledad Mendoza, Remy Del Pilar, Maria-Cristina Lodovica (sitting), Aurora Ulanday, Victor Hilado (sitting), Mariles Cacapit, Mars Del Villar, Lourdes Banadera, Remigio Abacan - 16th Floor - Mariott Hotel - Torrance, CA
Picture after the "yugyugan sa Marriott" - the most swinging group of Class 63. Picture taken after the wedding reception of Flora's son. As always, number one "gatecrasher" pa rin ang class 63.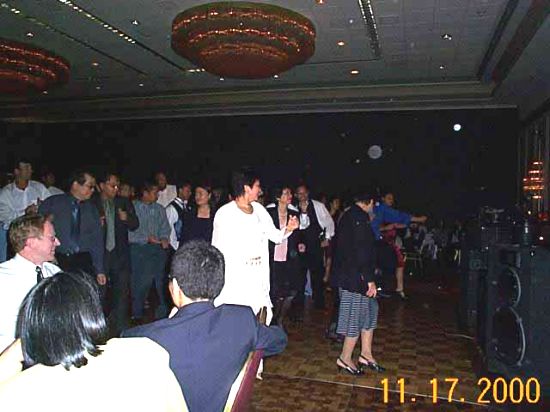 Madeline (Mar's wife) doing her ya-ya with the line-dancing group as John Maher (left corner), Cristina's husband looks on.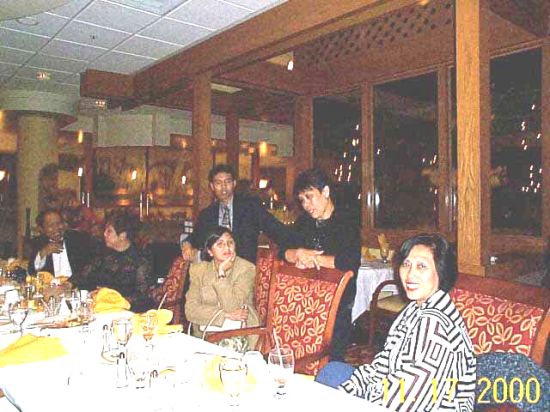 Diyos Mio, ang dami nating nakain...He he he.. basta't ako busog na - Aurora seems to be saying.. Thanks Au for taking the time to join us in your busy across the US tour with your husband. As always, everyone's happy to see you. Taken at the dinner hosted by Remigio and wife, Irene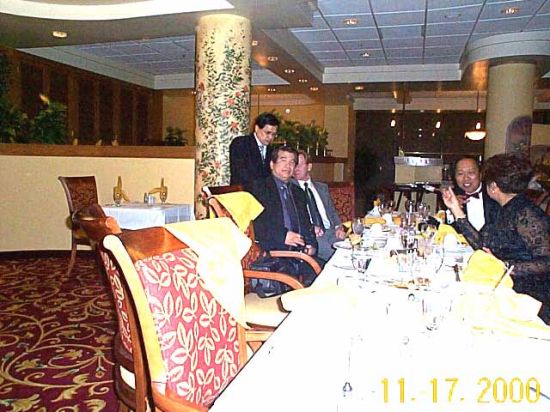 L-R: (standing) Mars Del Villar, Victor Hilado, John Maher, Remigio Abacan, Luz Alfaro (Conrad's wife)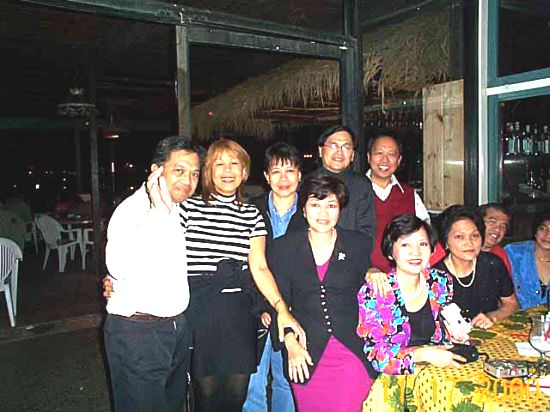 L-R: Conrado "akong bahala sa iyo" Alfaro, Nora Daza, Lourdes Banadera, Soledad Mendoza, Mars Del Villar, Remigio Abacan, Mariles Cacapit, Maria Cristina Lodovica, Victor Hilado, Madeline (slightly showing)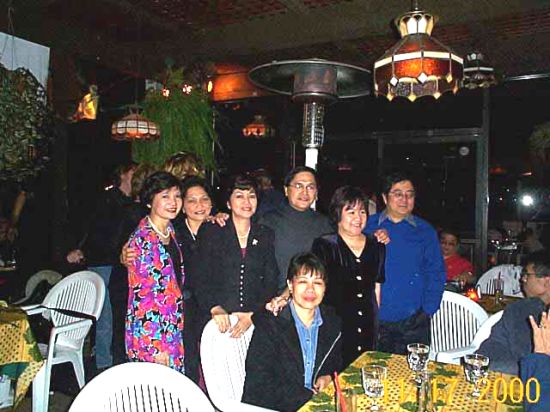 L-R: Les, Tina, Sol, Mars, Lourdes (sitting down), Remy, and husband Rolly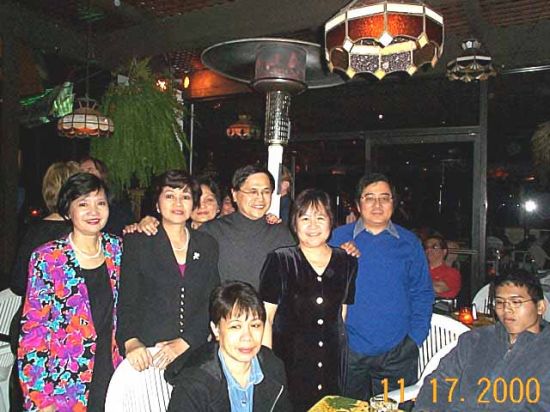 Much of the same group - "Casa Bartolina" in Marina Del Rey.
The Mexican Restaurant party's about half-way - in the background is Maria Cristina Lodovica dancing with Mars, Luz on left, while Sol claps her hands. Lulu Banadera didn't seem to be amused. Class 63 doesn't care--- we dance in the hallways, danceways, in the way of the waiters and waitresses - WE SIMPLY don't care....we're here to have fun..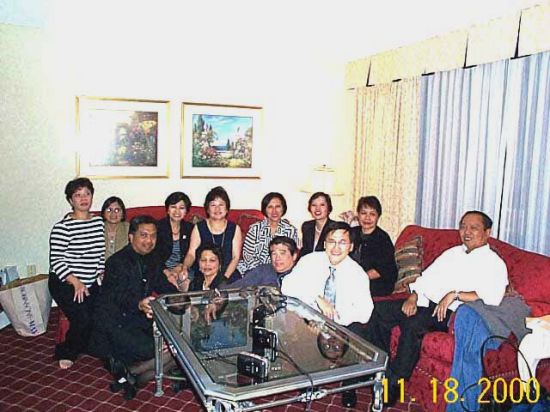 Group picture taken by the main lobby entrance of the Marriott Hotel in Torrance, CA. - From left to right: Remigio Abacan, Florencia Flores-Tiu, Vic Hilado , Lourdes Banadera, Mars Del Villar, Sol Mendoza, Les Cacapit-Licerio, Aurora-Ulanday-Abad, Remy Del Pilar, Tina Maher (Lodovica).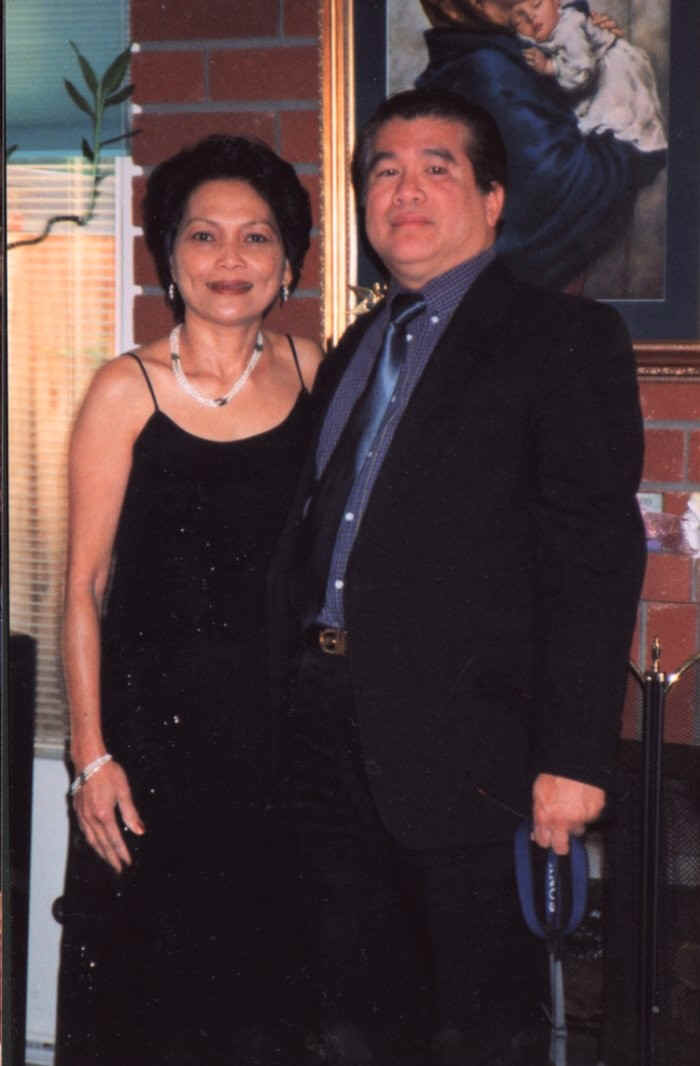 Aahhhh!!! Folks.. just like the old times... like Nestor de Villa and Nida Blanca... Here we go again.. Vic and Tina, together finally (at least in the photo session)....