Mars and Madeleine Del Villar - at their home in Irvine, California - a suburb of Los Angeles. Mars works as a Senior Accountant and Madeleine as a Registered Nurse at a local hospital in L.A. They have two lovely daughters (not shown here). He met Madeleine while in College in the Philippines.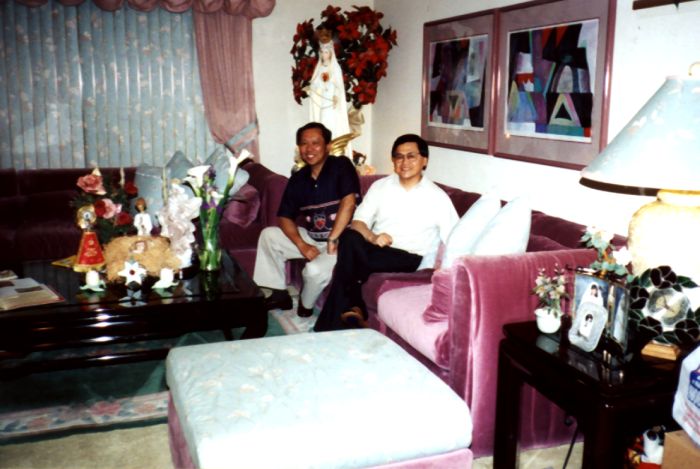 Mars and Remigio reminiscing the good old days in QCHS. This picture was taken on 5/6/2000 around 9:30 PM. What's a good reunion without pictures anyway?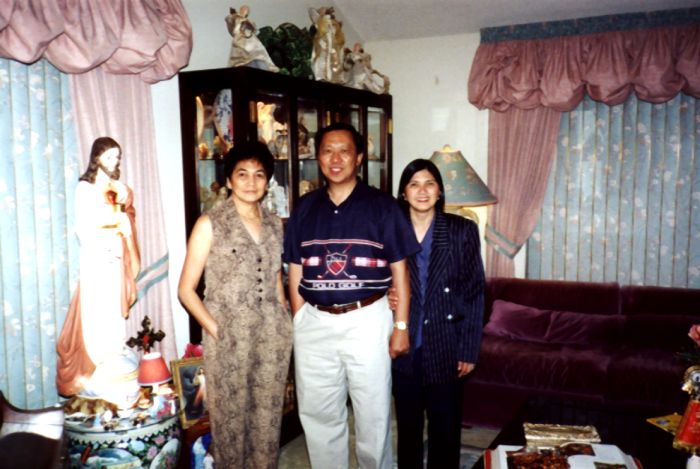 Madeleine on the left, Remigio and Irene Abacan. If you look around, you'll notice that Mars' and Madeline's home is full of souvenirs from their many trips abroad - namely, their pilgrimage to various sacred places in Europe.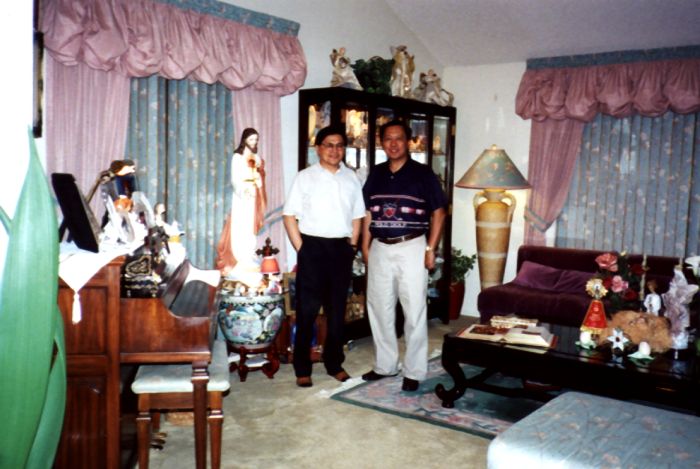 Mars took up photography and he made sure that his home was well lit before taking this picture. This picture is very clear, but due to digital file compression, it appeared kind of blurry here. I had to compress the files so they would load faster.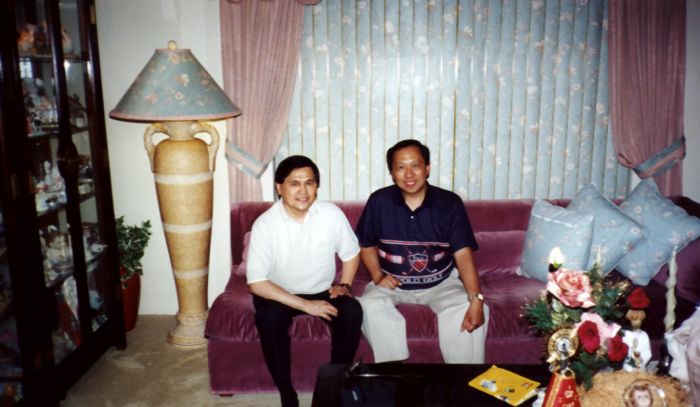 It seemed like yesterday when we were in Kamuning going through High School. Mars is very enjoyable to be with just like old times. We talked a lot about "you", our classmates -and of course, about the many childhood crushes and puppy loves. "What else?" . We've discovered "new secrets" - just now told, and of course we had to whispher a lot, else the wives hear us and tell us "Hoy matatanda na kayo - mahiya naman kayo!!!!!"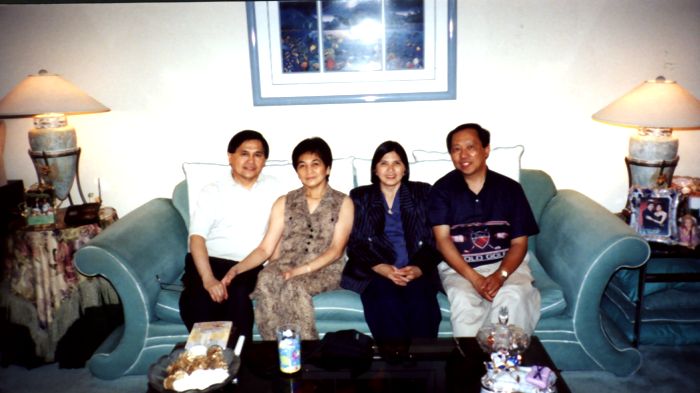 But of course we had to behave because the wives were around - not that old crushes and puppy loves would resurface. But because.............. Not by far, anyway. It's just two grown up men reminiscing about the old days. That's the beauty of reunions. We get to talk a lot about things from the old days.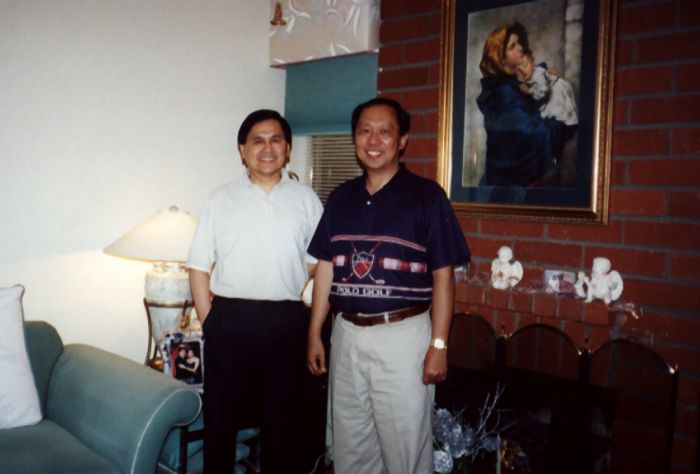 Well, sino ba ang mas pogi? Di siyempre wala!!!! Pareho na kayong matanda Mars and Remigio. But really during Mars' younger days, he could really make those young ladies cry (hindi dahil naapakan niya ang mga paa nila), but he could only love one person at one time, and of course -that's Madeleine..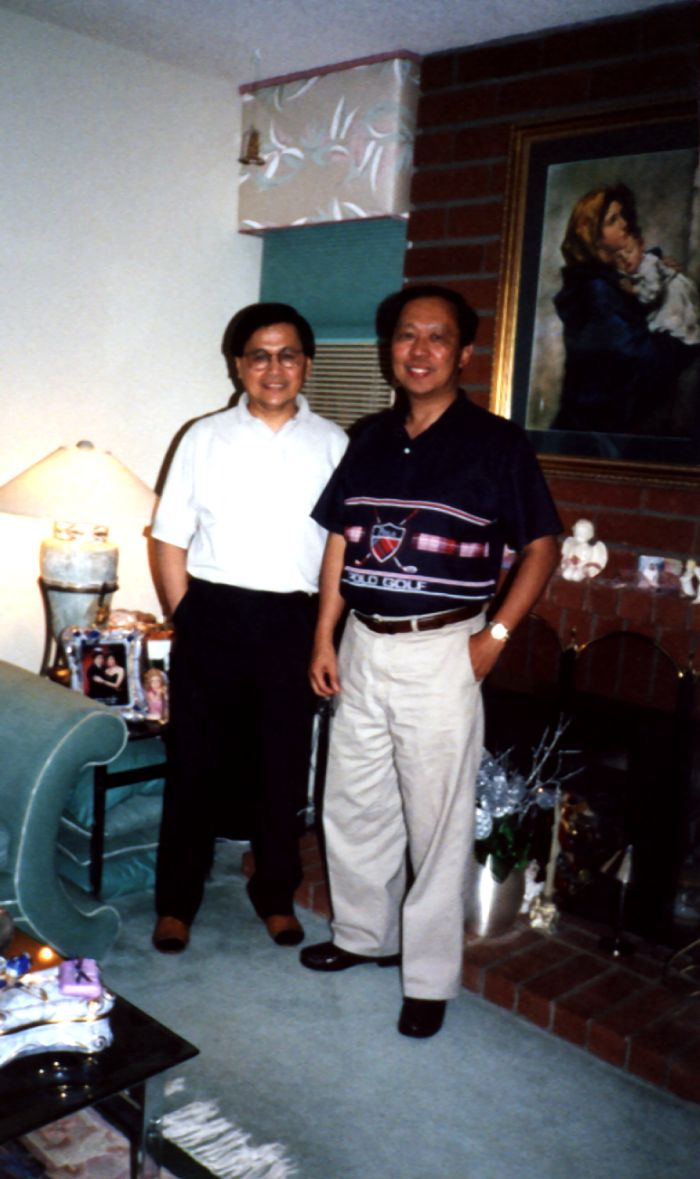 This was taken in the family room where we stayed and talked the most - Besides, that's where the merienda was. I really enjoyed the Palabok, and various kinds of pastries including my favorite Hopia. Mars and Remigio didn't really change much in the sense that they're not opposites of what they were during high school. On the contrary, and aside from their professions, they are pretty much the same jolly persons as they were during high school.
In many ways, Madeline and Irene have many things in common. They're both catholic devotees and can talk all night about the same subject. Well, Mars and Madeline, it was a good trip and it's realy nice seeing you folks. We look forward to seeing you again.