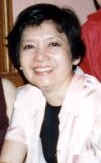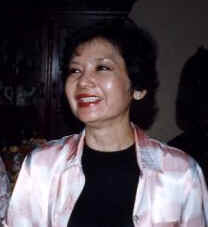 My first 6 six years was in the rank and file after which in the management staff. Well, I had the honor of being proclaimed as employee of the year and also as supervisor of the year. With my long years in PAL, I've witnessed the roller coaster situation it had gone through. During its stormy weather, it resorted to downsizing, reduction of staff, etc. and I survived it 3 times. Mind you, I also experienced working as a flight stewardess when our management was resolving a conflict with cabin crew's union. It was not as simple as just telling us to fly. We were selected among the management staff and underwent a rigorous and shortened training program. In one of my flights, Flora and husband then in L.A., entertained me and I enjoyed the short 2 days warm hospitality they extended to me. Most importantly, my family gets to travel around the Philippines, Asia, U.S., Canada and Europe courtesy of PAL.
I've been married for almost 22 years to a lawyer, a graduate of U.P., whom I met thru a college best friend. He was my boyfriend for 7 years before we got married. We have 4 children (3 girls and 1 boy), their ages 19, 18, 13 and 12. My eldest (girl) is in her 5th year Business Adm and Accountancy at U.P., 2nd (girl) in her 2nd year Nutrition at U.P. also, 3rd (boy) 1st year high school and 4th (girl) grade 6. Modesty aside, they are kids you can be proud of. They are consistent honor students. My eldest's standing now at her college in U.P. is cum laude and we hope she maintains it until she
graduates next year. QCHS Class 63 will be having a New Millenium party after office hours today.
This is Mariles Cacapit Licerio, currently working as the Technical Assistant to the Senior Asst. Vice Pres of Flight Operations, Philippine Air Lines. She is based in Manila Philippines.
Les is married to her post high school fiancee and has four children. She currently resides at Tandang Sora, Quezon City.
Les is a world traveler and frequents the US, Canada, and Australia. She, along with Soledad Mendoza, is instrumental in organizing many of our class reunions.