Featured new web page - click the above marquee

What's Happening Around the Group
Leave us Your Message For everyone to read
Create your own notes, anecdotes, smart remark, anything.... we don't really care, but leave something for us to read up on you. How do you do it? Just click "Leave us Your Message....." and blow away!!! To see what we have so far, click on See our "What's Happening Around the Group". You don't have to sanitize your comments, nor write in English. Any Filipino dialect will do. But, in your comments, please be mindful of those who are easily offended.
Kumander Goria Click on picture to find out who's who....
Click on the picture for full view
Ahh!!! Little girls who had turned into ladies, wives, and grandmas....Girls Scouts in 1956
Sampaguita was composed at the turn of the century by Dolores Paterno who was related to Pedro Paterno, if not a sister to, the architect of Pact of Biyak na Bato agreement between the Spanish and Aguinaldo's revolutionary governments.
Sampaguita ng aming lipi
bulaklak na sakdal ng yumi
Ikaw and mutyang pinili na sagisag ng aming lahi
At ang kulay mong binusilak
ay diwa ng aming pangarap
Ang iyong bango't halimuyak sa tuwi na'y aming nilalanghap
Oh bulaklak, na nagbibigay ligaya
Oh! paralumang mutyang Sampaguita
Larawang mistula ng mga dalaga
Ikaw tanging bituing-hiraman ng kanilang ganda.

Ang iyong talulot ang siyang tunay na sagisag
Ng sa dalagang puso'y wagas
Kayumian at pagkamatapat.

English Version
Lovely bloom of the Sampaguita
by my Philippine maid beloved
Not a flow'r in the world is sweeter as you circle her lovely brow
In the daintiest collar clinging with one bud like a pendant swinging
'Round the neck of the gentle and beautiful one how happy and fortunate now
Beautiful flow'r, enchantment of fair Manila
With happiness fill her
Oh! bright Sampaguita
Beautiful flow'r
Oh! rest on her hair so lightly
Softly caressing touch her with blessing dear Sampaguita flow'r

Green of the garden beloved symbol of my dear maiden
Pure Sampaguita entreat her
To smile again my flower of flow'rs



Download these midi files: Right click your mouse and select "Save as". If you just want to play the songs, simply click it and select "open" at current location..
* Realize full Stereo-Hi Fi by hooking up a sub-woofer speaker system to your PC.
Click Terry's Picture or this to see more of Terry Sarceda-Arcabos

Click to see more of Minda Sarceda Ramos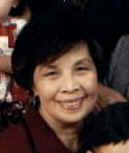 Click to see more of Zona Lisa Gray-Tugonon
How To Stay Young:

1. Throw out nonessential numbers. This includes age, weight and height. Let the doctor worry about them. That is why you pay him/her.

2. Keep only cheerful friends. The grouches pull you down.

3. Keep learning. Learn more about the computer, crafts, gardening,
whatever. Never let the brain idle. "An idle mind is the devil's
workshop," the devil's name is Alzheimer's.
4. Enjoy the simple things. When the children are young, that is
all that you can afford. When they are in college, that is all that you
can afford. When you are on retirement, that is all that you can afford!

5. Laugh often, long and loud. Laugh until you gasp for breath.
Laugh so much that you can be tracked in the store by your
distinctive laughter.


Tessie... Seems like you were a very popular high school classmate during your high school days. If you happen to come across this web page, please get in touch with the group...for old time sake...
Click to see more of Tony Encarnacion
Click to see more of Romy Abacan


6. The tears happen. Endure, grieve, and move on. The only person who is with us our entire life, is ourselves. Be alive while you are alive, don't put out a mailbox on the highway of death and just wait in residence for you mail.

7. Surround yourself with what you love, whether it is family,
pets, keepsakes, music, plants, hobbies, whatever. Your home is
your refuge.

8. Cherish your health. If it is good, preserve it. If it is unstable, improve it. If it is beyond what you can improve, get help.

9. Don't take guilt trips. Go to the mall, the next country, a foreign country, but not to guilt country.

10. Tell the people you love, that you love them, at every opportunity.

11. Life is not measured by the number of breaths we take, but by the
moments that take our breath away.

--Author Unknown.

Terry '58
Name: Belen Domingo Didulo
QCHS class: '56
Education: University of the East, Manila, class'60, Bachelor of Business Administration; Philippine CPA '64. Vancouver Community Colleges, Associate in Business, class '76, University of British Columbia, various Business Courses for two years Compensation and Benefits Consultant, Public Works and Government Services Canada (now with 26 + years of service)
Married to Miguel Nelson Didulo on June 11, 1966@ the Sacred Heart Parish in Kamuning; Engineer, Bentall Management
Children: Miguel Jensen, 33, Dawn Maria, 30, married to David Cooper with son Thomas Miguel, Romana Didulo 27, foster daughter was in: 98 K-3rd Street, Kamuning, Quezon City
now in: 8030 Oak Street, Vancouver, British Columbia, Canada (since June, 1973) came to Canada on September 5, 1970.